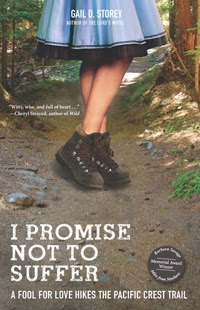 Hiking is a big love of mine. As I have mentioned before it has always been a dream of mine to through hike the AT (Appalachian Trail) which runs from Georgia to Maine. It takes about six months to do and I have read about a dozen books written by hikers who have made the journey. I read these books and dream about "someday". I want to know as much as I can about what it takes mentally and physically to do these long distance hikes. I also love reading about the adventures of others.
Despite all my reading about the AT ( and my obsession with long distance hiking) I had never once picked up a book about the infamous long distance hike on the other side of the country. It is called The Pacific Crest Trail (PCT) and it also takes six months to hike, running from Mexico to Canada (2,663 miles).  Last week though I made the leap and read a wonderful book about one woman's journey on the PCT. It is called I Promise  Not to Suffer by Gail Storey. The author and her husband did the hike together after he quit his  job as a hospice doctor. Gail insisted upon joining him and their journey is touching, inspiring, and funny. The chapter that addressed the issue of sex on the trail had me smiling. I have always dreamed about my husband and I doing one of these long distance hikes and the issue of sex has never been addressed in my reading, that I recall. Does one even want to go there after hiking 20+ miles every day? Ditto for the sweat and caked dirt. Finally I have my answers, LOL. Though it has its share of serious too… exhaustion, animal encounters, grumpiness with each other, trail injuries, etc. The author also has to deal with dangerous weight loss and her mother's prolonged illness back home.
Just before reading this book I wondered why I had never read a memoir about the PCT before, since I have read so very many about the Appalachian Trail and I think I figured it out after the first couple chapters. The thought of hiking any trail that includes a huge portion of desert…kinda freaks me out. I was raised in the Southwest (Arizona) and I spent years hiking and camping all over that beautiful state. I know desert and I know how wondrous and terrifying it is. I know how the sun beats down on you until you feel as though you are literally cooking on a skillet. I know heat exhaustion and how hard it can be to find water. I know how it can be blazing hot during the day and freezing at night, in the spring and fall. I know how prevalent and dangerous the rattlesnakes and mountain lions are. I lived on a property that had both in abundance. So yeah…I think that is why I chose to ignore the PCT because the desert part is kinda "been there, done that"!
Still this book has me longing to give it a go. I want to ford a river in the Mohave desert, see the mountains of the High Sierra, and travel through the lava fields of Oregon. Mostly I want to know if I have what it takes to get though a hike such as this. So far I have been unable to get my husband excited about the notion but I still dream of the day when he and I can attempt it together. We CrossFit together…can we hike from Mexico to Canada together?
If you love travel and adventure memoirs or you love hiking I highly reccomend this book. I know it has now spurred me to look for other books about the Pacific Crest Trail.
I was selected for this opportunity as a member of Clever Girls Collective and the content and opinions expressed here are all my own.