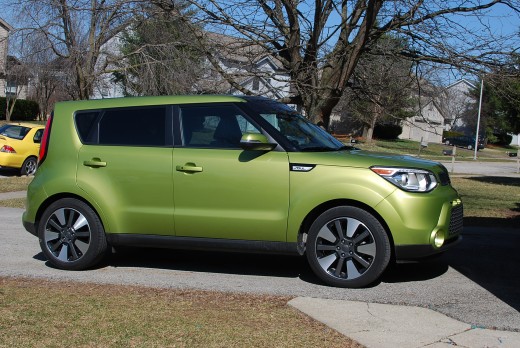 Last week I got to borrow this nifty car for a whole week. This was really my first experience with Kia. Beyond seeing them around the road I only knew them as the company that makes the cute commercials with the dancing hamsters. When the Soul arrived at my house I loved it from the get-go. The color (called Alien) is right up my alley. I pretty much only like cars that are green, yellow, or a vibrant blue. I had a magenta car once but no companies are making cars in that color anymore. :)
This one is touted as being a bit greener (as in eco friendly) but I am going to be brutally honest about that. I don't find this car to be green at all. My gas mileage during the week I had it ranged from 24 to 28 mpg. The technicians who drove it to me from Detroit claimed they got 35 mpg but the majority of those miles were highway. I don't get on the highway very much. All of my driving, which isn't much, is done in the city with lots of stop and go. I drove with the eco feature turned on the entire time as well. Don't get me wrong the mpg I got while driving it is probably better than that of any of my current vehicles. Yet I am not going to consider a car green unless I am getting 45mpg or higher or unless it is electric. Neither qualifier applies here.
That said I love this car anyway…for budget reasons. I have test driven many different cars in the past two years. ALL OF THEM were very nice, luxurious, green cars that I could not begin to afford. They had all these amazing features and upgrades that equated to many thousands of dollars on top of an already very pricey base model. The Kia Soul I drove was the top of the line model with every feature I loved in the luxury cars and some new ones the fancy schmancy cars didn't even have.
It has heated and cooled (cooled?!?) seats, front AND back. It has a heated steering wheel and a backup camera. It has an amazing display with a kick but navigation system. It has remote keyless entry, roomy leather seats, a push button start, mood lighting in groovy colors (blue, green, red, etc), and a sun roof that extends across the entire roof, not just the driver seat area. It just has too many features to name and the price is only $26,000 with a 100,000 mile warranty. Wow! After driving cars that averaged 35 to 40k and weren't nearly as nice as the Kia Soul I am sold. I fell in love with it as did my husband, kids, and parents. Whenever the time comes to look for another car we might actually decide not to go used like we usually do, not if we can get all that luxury for a fraction of what it typically costs.