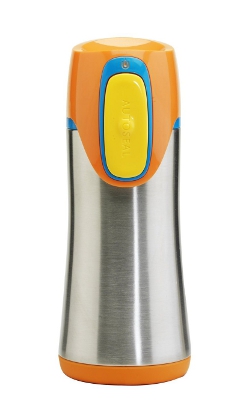 Plastic Cups for soooo yesterday! Nowadays it is easy to buy kids drinking cups without having to resort to cheap plastic just because you are afraid of breakage. Newer stainless cups do not break and they also do not have the chemical nasties and toxins that plastic does. Stainless lasts a long time and through multiple children so they are economical as well as practical, even if the per cup price is a bit more that what you can buy in the plastic cup section at Walmart. Look at the stainless options available and fall in love. Many sippy and bottle varieties found below use some plastic pieces to help with spilling and cleaning but there are also straight stainless cups.
This Contigo Autoseal Stainless Steel Kids Cup is super stylish!! The colors are so appealing in this stainless/plastic combo cup that the adults in the house might be jealous.
The cup is insulated to keep drinks cold for up to 7 hours. This is perfect for having cold milk or juice with lunch, drinking cold water throughout the day, or taking cold drinks with you any time you're on-the-go. This 100-percent spill and leak-proof kids cup uses patented autoseal technology to prevent accidental spills. Just press the button to sip and release the button to automatically seal. No leaks and no spills make the autoseal stainless steel kids cup the perfect cup for kids on-the-go, in the car, or in school lunches.