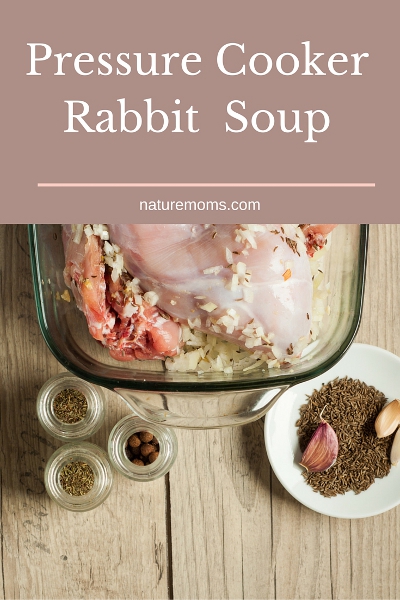 I could sing the praises of pressure cookers all day long. They make it amazingly easy to make a fast meal with a slow cooked taste. The flavors pop, the meat falls off the bone, and you can walk in the house with only 45 minutes to spare and still have an amazing dinner.
This soup imitates a classic chicken noodle soup except it uses rabbit. The flavor is very similar but rabbit is one of the healthiest, leanest, and most environmentally friendly meats you can eat. It is a very sustainable meat source and since rabbits are small and easy to care for they can be raised and butchered by the DIY homesteader. If that is not for you they can also be found at some farmer's markets and in gourmet grocery stores.
This recipe was made in our much loved Instant Pot!
Ingredients:
4-5 lb. rabbit (with bones)
1/2 Onion (large, cut in large chunks)
3-4 Carrots (large, cut in large chunks)
2 Stalks Celery (cut in large chunks)
2 Inch piece of ginger (sliced)
3 Cloves garlic (chopped)
1 C White wine
1 C Noodles
2 Tbsp flour
2 Tbsp oil
2 Tbsp Herbs de Provence
1 Tbsp Parsley
5 Cups water
Salt and pepper to taste
Rabbit Soup Recipe:
Dredge the rabbit pieces in flour and saute them inside the Instant Pot or pressure cooker for a few minutes on each side, using the sautee setting on your Instant Pot. After all pieces have been browned remove and add the onion, celery, carrots, garlic, and ginger. Saute for 3-5 minutes and then deglaze with the wine. Allow it to cook down for 2-3 minutes. Add the rabbit pieces once again as well as the water, parsley, and herbs. If you are using a deboned rabbit use chicken or vegetable stock instead of water.
Manually cook for 15 minutes and then allow it to depressurize naturally. Remove the rabbit, debone, and add back to the pot along with the fresh noodles. Allow them to soften, salt and pepper to taste, and serve. Enjoy!
Tip: Make it paleo by removing the noodles and flour. It's still delicious.