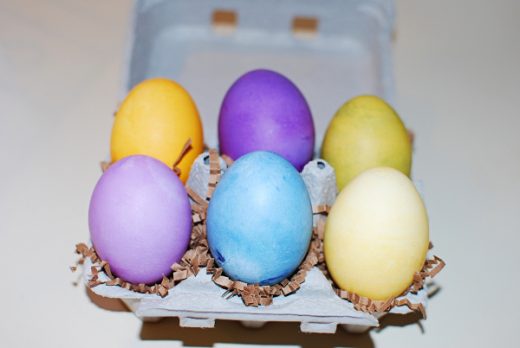 This year I had it in my mind that I was going to try and dye Easter eggs using our GLOB natural botanical paints. Only problem was I could not find them in all the stuff I have not yet unpacked in our move. So when I came across the Eco-Eggs Easter Egg Coloring Kit, I opted to just use that. The dyes are made using natural plant, fruit, and vegetable extracts. It includes three natural dyes (orange, blue and purple), a color chart for creating 6 colors, and instructions for coloring eggs.
It was VERY easy, which I love. First you have to decide if you want to hard boil the eggs or blow them. I opted for the latter although I haven't done that part yet. The colored eggs are chilling in the frig until I decide to tackle that. You just pour the 3 dyes  and a 1/2 cup of warm water in 3 glass cups and drop the eggs in to start the process.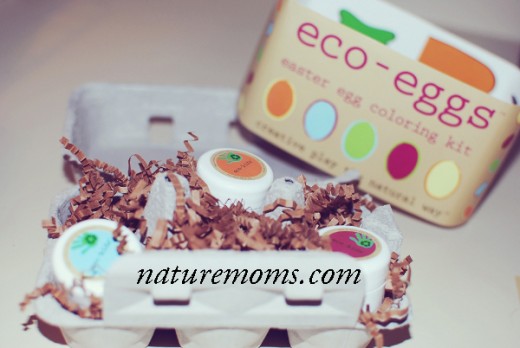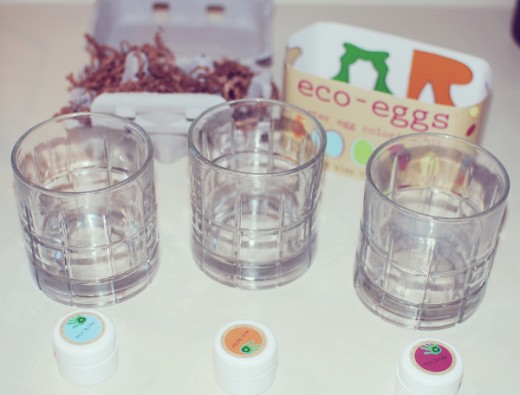 Right away I noticed that this "green" product could be even greener if the dyes came in small paper bags instead of plastic containers that look like the ones you usually find lip balm in. My daughter confiscated these to put little beads in but they will still likely end up as garbage so that seems like a waste. But moving on…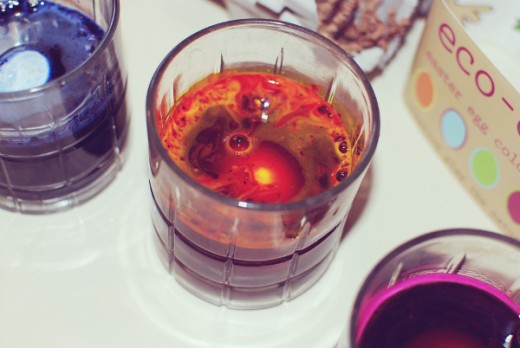 The color chart that comes in the kit advises you on how long to let the eggs sit for the desired color. Some you need to let sit in one color followed by a little time in another to mesh colors and create another color altogether. The standard colors (purple, blue, and orange) were vibrant and beautiful. The mixed colors were only so-so. The green for instance was nice enough but not as green as I would have hoped. The brown did not work out at all so we ended up throwing it in all three dyes and got a dark burgundy instead. The yellow came out nicely and was the easiest to dye… only 3-4 seconds in the orange dye followed by a quick rinse.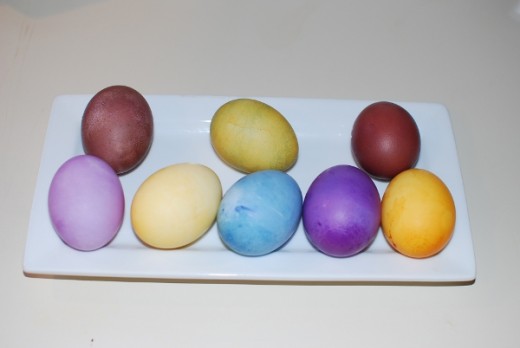 The photo above is not edited so those are the true colors we ended up with. Quite nice I think. ;) The really dark burgundy egg is actually a brown egg so that is why it is so dark. I wasn't too keen on buying the nasty white factory farm eggs for this project but hopefully we will be able to keep these for years to come when they are done. Our local farm fresh eggs (brown) just didn't take the dyes, with the exception of the purple. You can dye quite a few eggs with this kit and even refrigerate leftover dyes for future use, at least we did.
Anwyay that is our experience with this product. How do YOU keep Easter on the eco-friendly side?