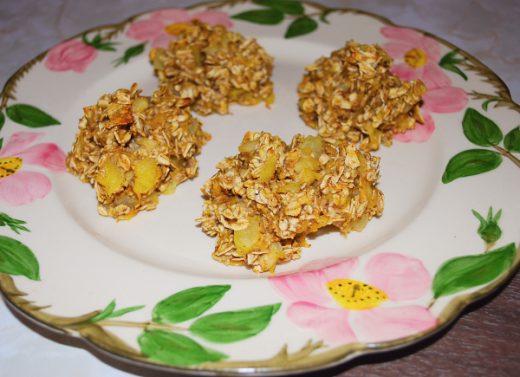 I grew up eating pineapple oatmeal breakfast cookies and for many months now I have had a hankering for some. This past weekend I asked my mom for a refresher course on how to make them and after adapting the recipe a wee bit I have made these cookies for breakfast all week long. They are so simple and easy to make (12 minutes total for prep and cooking) and they taste delicious. They are one of the few ways I will eat oatmeal actually and they are surprisingly filling without being heavy. They keep me satiated for hours and I can eat them prior to hitting the gym without cramping up. This recipe serves one (4 cookies), since I eat my breakfast alone most mornings, but it can be doubled as needed for more servings.
My whole family enjoys these…
Pineapple Oatmeal Breakfast Cookies Recipe
1/2 cup oats
1/2 cup crushed pineapple (fresh or canned)
1 pastured egg
1 T quinoa flour
1/2 T flaxseed meal
1 T whole wheat flour
1 t baking soda
4-5 drops liquid Stevia, or 1-2 teaspoons of another natural sweetener
Pinch of cinnamon
Mix all ingredients together. You should have a wet dough but not so wet that it won't clump together. If it is too wet add more flour. Scoop onto a cookie sheet and bake at 350 degrees or 10 minutes. Eat them warm and enjoy!
Important Notes: You can eliminate the tablespoon of whole wheat flour if you take a tablespoon or more of the oats and grind them into flour. If you use canned pineapple, drain the juice first. Ideally you will also want to use soaked oats to make sure the phytic acid is deactivated and that the cookies are as nourishing as possible. One good way to do this is to soak your oats overnight in water with a couple tablespoons of dairy kefir. Then drain off the water and spread them thinly on a dehydrator sheet and dehydrate them. You can also use a cookie sheet and a low temperature in the stove. Once dry you can use the oats for this recipe and you can make big batches of them so that you have some at the ready.