Zulily is a deal site that offers amazing prices on everything from kids toys and clothing to women's clothing, shoes, and home decor. It also happens to be one of my very favorite places to shop because the prices are amazing AND they often have greener product options mixed in among the more conventional. In November I bought some workout clothing, a couple toys for my my youngest kiddo, and some kitchen items like my now beloved cast iron skillet. I consider myself to be a VERY savvy online shopper and I know good deals when I see them so Zulily keeps me coming back often.
Zulily asked me to make a Christmas wish lift of the stuff I would love to get for the holiday and I will happily oblige. This is some of the stuff they are currently selling that makes the grade for me…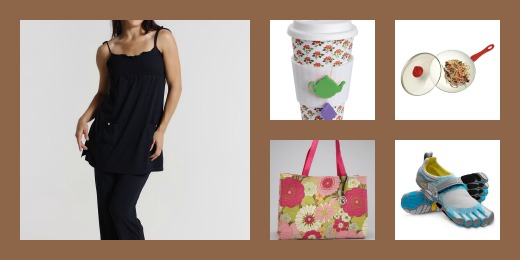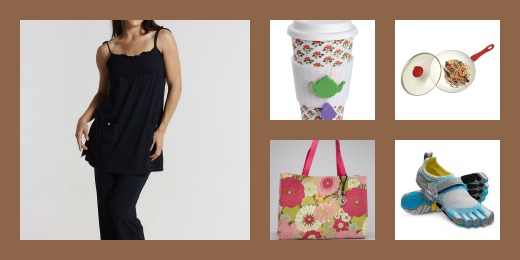 Vibram Shoes – Okay sure I already have two pair but who could begrudge me a new pair in a color I don't have? I wear them to exercise in but also to just where around town and around the house. They are so comfortable and healthy for your feet.
Camellia Market Tote – It could be my purse, my gym bag, my poolside bag or a shopping bag. I only know that I love it and it is made of natural materials.
The Sassimi Black Lanai Eco-Chic Flare Lounge Set made of bamboo. It look comfy and yet attractive, not at all frumpy. It is not all that easy to find pajamas and lounge wear (for adults) made from sustainable materials either. That it looks rather sexy gives it bonus points too!
The Green Tea Lover Eco Cup is adorable! I am not much of a tea drinker but I would love to start making some and bringing it with me for chilly winter days. My husband has his coffee and I always feel so left out! The cup is made of ceramic and silicone.
The Wok is ceramic covered and something I have been wanting for awhile…a Wok that is. I want it so my husband (who has the Asian cooking genius) can make me a delicious Asian stir fry for lunch every now and again.
Have you tried Zulily yet??