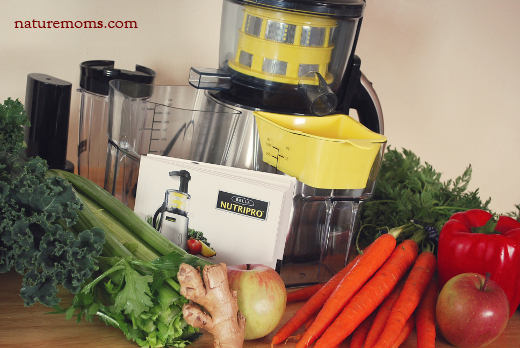 I have made no secret that I am not really big on juicing. I have a Vita-Mix and we just seem to prefer whole foods juices and smoothies, with all the pulp and juice combined. That said it can be very nice though to have a cup of fruit or veggie juice without all the frothy pulp and the full tummy that comes after drinking a whole foods juice. My kids especially like juices and we are loathe to buy them at the store because of all the unsavory ingredients (like lots of added sugar) that often accompany those products. Organic and natural juices are available but have you seen the price on those???
Plus, sugar is sugar and most kid's juices have a lot of it. A green juice is much preferred. Just something refreshing that they can drink with their meal and not fill them up so fast they won't eat their dinner. We used to own a juicer and we used it often enough but back then we had a different house with a teeny tiny kitchen and we simply did not have room to store a juicer anymore. So goodbye it went.
At any rate I didn't like the actual juicer very much. It was my first one and I bought a cheap Jack LaLanne model. I disliked cleaning it and I hated handling the blades. It made me nervous every time I used it and we kept misplacing the little magnet thingy that helped you put the blades in correctly. I swore that someday I would get a better one and as luck would have it the folks at NutrioPro recently offered me one of their cold press juicers to try. I have been hugely impressed with it.
Here it is after removing it from the box. This is everything you get…
The list of items/parts for the juicer are:
-New Bella NutriPro Cold Press Juicer with quiet induction motor
-Stainless steel juice strainer
-Single juicing screw auger
-Feeding tube
-1 pulp container with handle
-1 juice container with handle
-1 pusher
-1 cleaning brush
-5 year warranty
-Instruction Manual
-Recipe Booklet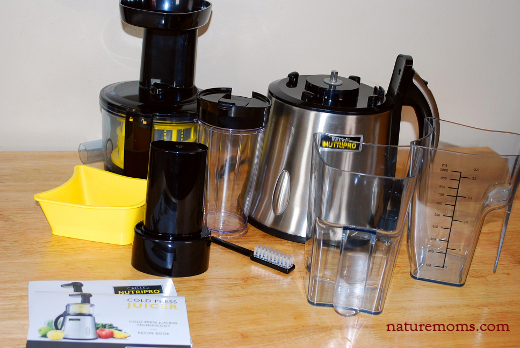 I LOVE that the containers have handles. It was also super easy to put together and I had it raring to go in about 2 minutes and it is MUCH quieter than our previous juicer and our blender. I also love that it is a cold pressed juicer. It has no blades so the fruits and veggies are not pulverized into juice, they are pressed or squeezed, using a two step system. The pressing action won't oxidize the fruit and vegetables and it will help keep the nutrients and enzymes intact. This is also because anything with a blade, like a blender or a juicer with blades, will heat up and start to destroy the nutrients. Cold pressed juices are a much healthier way to go. I hate handling and cleaning blades so double whammy bonus points here.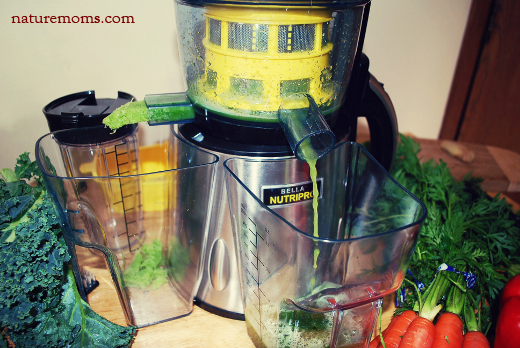 Another aspect that thrilled me was the fact that you don't have to shove the fruit/veggies down into it…you basically throw them in and they get sucked in on their own. The only thing that has needed a little help from me thus far has been greens, like Kale. Everything happens so smoothly, I love it. Perhaps this is why NutriPro Juicers are said to get more juice from certain fruits and vegetables than other juicers. For example, the NutriPro got 66% more pineapple juice than one of its main competitors.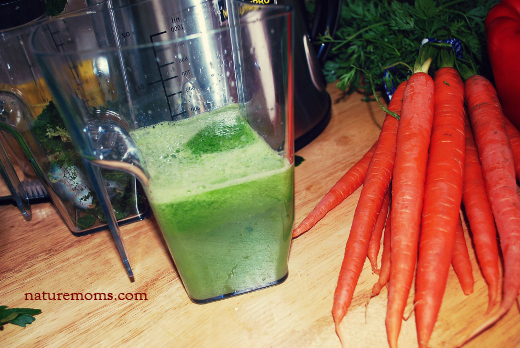 The next big win for me is the ease with which you can clean the NutrioPro. I HATED cleaning our other one and that fact often made me shy away from juicing. This one was very easy to clean and I had it done in about 3 minutes. The fact that there is not a whole lot of pulp and debris leftover is a big help. The hardest part to clean was the stainless juice strainer. I spent 2 of the 3 minutes scrubbing that with the brush. Everything else could just be run through some soapy water and rinsed. Easy peasy. It is dishwasher safe too but my dishwasher was full when it was time to clean up.
The very first juice I made was something I am now calling my winter wellness juice. It is full of fresh ginger which is so very good for you…like a natural wonder drug. It is perfect for winter time when illness is rampant and yummy too.
Winter Wellness Juice
1 large apple
3 large kale leaves
1/2 cucumber
3 stalks celery
1-2 inches of ginger
To your health!!