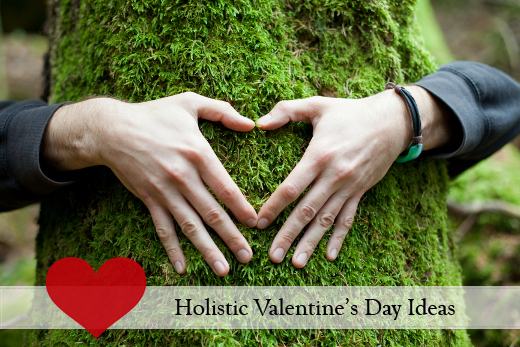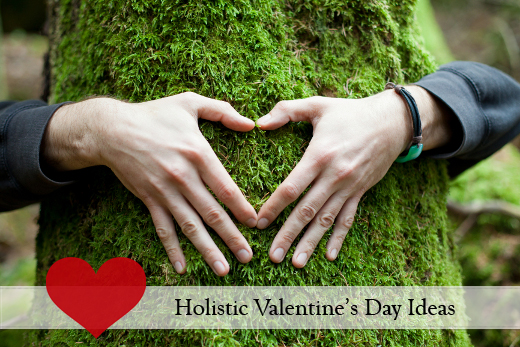 The term holistic (or wholistic) refers to addressing the whole person…mentally, socially, and physically. We usually think of it in terms of alternative medicine that treats the whole person and not just a symptom or a disease as does conventional medicine. Valentine's Day though is a wonderful time to embrace this concept as well – to embrace the heart, mind, and body of your sweetie. Here are some ideas for a holistic Valentine's Day:
1. Go to a holistic spa for a treatment together, or buy such a treatment for your lover. At a holistic spa, you typically receive a massage of some sort – Swedish massages, hot stone, or reflexology perhaps?  Some spas offer beauty treatments and other pampering, romantic treatments. If you think your male partner may not be into spa stuff just sit and watch the movie Mansome with him first. If Justin Bateman and Will Arnett are down with it, how can he not be??? One of the best date nights my hubby and I had was a session at an acupressure clinic after dinner and before our movie. So relaxing!
2. Chocolate is holistic and appropriate for this romantic holiday if you get the right kind. It has to be very dark chocolate to reap health benefits and organic and fair trade if at all possible to address the social issues of making/eating chocolate. You would be horrified (I hope) to have blood diamonds but did you also know that the chocolate industry is is heavily involved in slave labor? Remember…dark, fair trade, and if possible, organic.
3. Prepare a romantic meal for two with local, organic food. A holistic philosophy embraces humanity's connection to nature, and organic food grown locally, with its respect for natural methods and the environment, supports that idea. This is also a great budget idea if you cannot afford to drop $200 on a fancy dinner, which probably isn't going to be organic or local. If you want to watch a movie at home you can always use Netflix to stream socially conscious movies too. There are many in their catalog.
4. Candles help set the mood on Valentine's Day, whether it's for a special meal or just time together. In keeping with the holistic theme, use soy candles or beeswax candles that are more environmentally responsible and non-toxic.
5. Natural essential oils can help set the mood with pure scents. Use these instead of artificially-scented candles or other synthetic smells. For ideas check out my post on Easy Ways to Use Healing Aromatherapy Oils in the Home, it has some ideas for scenting the home with plant oils.
6. Roses may be traditional gifts, but cut roses are rather wasteful. Give a live rose bush instead – the miniature, potted roses look very pretty and can be kept in a container or planted in the garden in the spring. This is the kind of gift that keeps on giving long after valentines. Other live plant ideas include indoor plants that will enhance air quality, or a tree seedling that can be planted in the spring.
7. Not all gifts have to be something you can hold in your hand. Give a gift that addresses your partner's love of social justice by donating to a good cause in their name. Might I recommend WaterAid?
8. Give your significant other some homemade beauty aids, like a salt scrub or flax seed hair gel (mix 1 tablespoon flax seeds with 1 cup water, microwave for 2 minutes, steep for at least an hour, then strain). A homemade beauty recipe, holistic care book would be good too. For women I recommend Green Beauty Recipes and for men Whole Man: Unleashing the Potential of the Modern Man. Both are excellent.
9. Speaking of homemade, consider making your own Valentine's treats that are healthy and holistic. Dip strawberries in organic chocolate, make homemade fudge, chocolate nests, or make these yummy Peanut Butter Carob Balls (can use almond butter instead of peanut butter too). Make your own pink icing with natural ingredients (cream cheese, egg whites, whipped cream, pureed strawberries, cherry juice, etc.) to make it more festive.
10. Purchase Valentine's cards made from recycled paper, or make your own. Get creative and use scrap paper, or make your own paper from old newspapers and junk mail that have been shredded, soaked, and blended into pulp. Add some seeds to your homemade paper and you can plant them afterwards.
Have a happy and holistic Valentine's Day!!