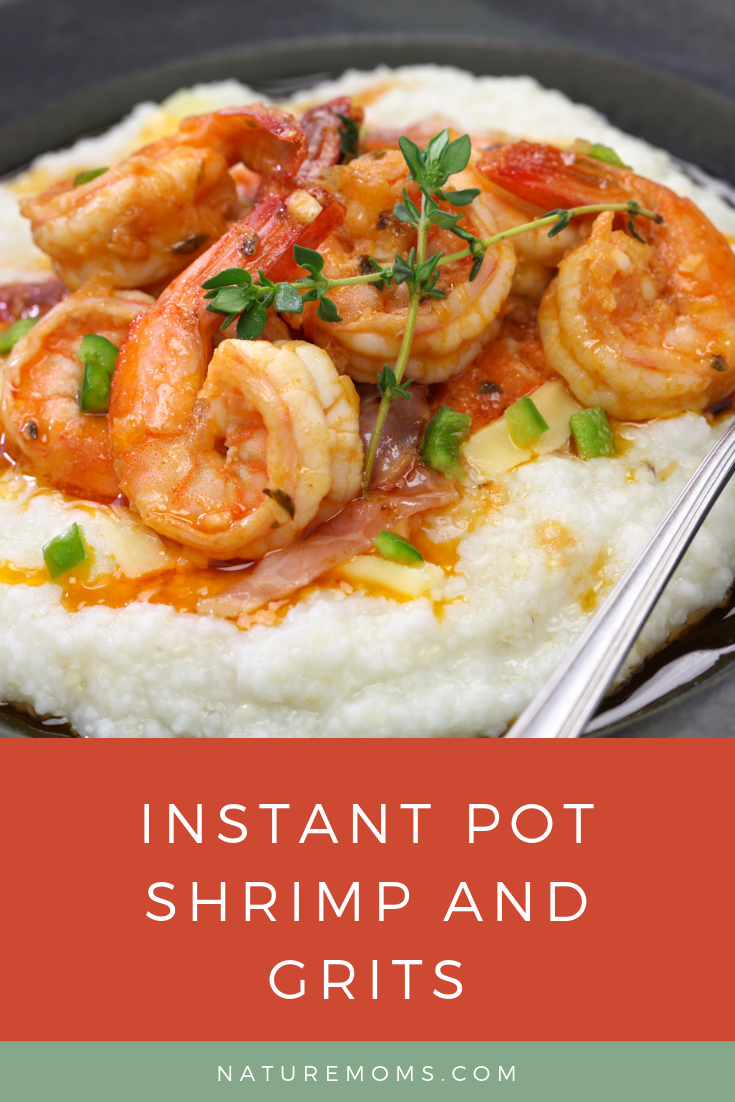 I am a huge fan of shrimp and grits. When we travel around the South I will often get shrimp and grits at every restaurant we go to, if they serve it. I love trying different versions of this dish but my favorites usually involve a tomato based gravy with andouille sausage and very cheesy, flavorful grits.
If you are looking for restaurant recommendations I must tell you that Cooper's Hawk Winery & Restaurant has the best shrimp and grits I have ever tasted. Hands down, bar none, the best, on the planet. Oh and Jimmy Buffet's Margaritaville also serves some tasty shrimp and grits as well.
This delicious shrimp and grits at home is fast and flavorful in no small part because it is cooked in the Instant Pot. A restaurant quality meal for the whole family in 40ish minutes? Yes, please! Even better is the fact that this recipe is all done in the Instant pot, in one shot. No dirtying another pot to cook the grits and no frequent stirring as is required when you do it on the stovetop.
Even better is the fact that this meal tastes just as good on the second day if you have leftovers. Let's get started…
Instant Pot Shrimp and Grits
Shrimp Ingredients
1 lb shrimp peeled and deveined
2 tsp Old Bay seasoning or Cajun seasoning
4 strips smoked bacon, diced
1/2-1 andouille sausage link, sliced in chunks
1 small onion chopped
1/2 cup bell peppers red and/or green, chopped
1 Tbsp garlic minced
2 Tbsp dry white wine
1 can diced tomatoes
2 Tbsp lemon juice
1/4 cup chicken broth
1/4 cup heavy cream
1/4 cup green onions, chopped
Salt and pepper to taste
Grits Ingredients
1/2 cup grits (I like Bob's Red Mill)
1 cup half and half
1 cup water
Salt and pepper to taste
1 Tbsp butter
2 Tbsp smoked gouda, thinly grated (or cheese of choice)
1 Tbsp Parmesan cheese, grated
1-2 Tbsp Boursin cheese, crumbled (optional)
Instructions
Pat shrimp dry and sprinkle with seasoning. Set aside.
On 'Saute' mode, cook bacon and andouille sausage until bacon is crisp, about 4-5 minutes. Remove to a plate and set aside.
Saute onions and bell peppers in the rendered bacon fat till onion is translucent. Add garlic and saute briefly.
Turn Instant Pot off.
Deglaze with white wine, and stir well to remove any browned bits.
Stir in tomatoes, lemon juice, broth, salt and pepper.
Place trivet in the Instant Pot.
In a medium sized oven safe bowl, stir together grits, half and half, water, salt and pepper. Place bowl on trivet.
Close Instant Pot and seal it. Cook on manual for 10 minutes.
Allow the pressure to release naturally.
Open the Instant Pot, remove the grits and set aside. Remove the trivet.
Carefully stir in shrimp, bacon, and sausage and close lid to seal in heat so the shrimp can cook in warm mode.
Fluff grits with a fork, add the butter and cheeses. Mix well until melted.
Turn on 'Saute' mode for 1-2 minutes and stir in cream and finish cooking shrimp.
Serve grits topped with shrimp, sauce, and green onions as garnish.
Enjoy this taste of the South!