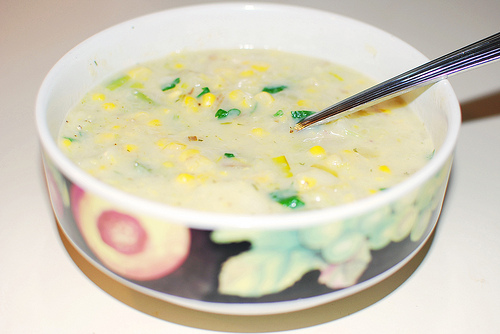 Ingredients:
1 T Olive Oil
3 T Chopped Yellow Onion
2 Cloves Garlic, chopped
3/4 C Chopped Leek
1 C Diced Potato
10 Ounces Frozen Corn
1 T Seafood Seasoning
2 T fresh Parsley, minced
1 1/2 C water (can use veggie or chicken broth if you prefer)
1/4 tsp salt
1/2 cup milk (can use cream to make it more savory)
2 T Parsley, minced
Directions:
Saute onion, garlic, and leeks in olive oil until tender. Add water, potatoes, corn, seafood seasoning, and salt and bring to a boil. Reduce heat and let simmer 10 minutes or until potatoes are tender. When done remove half of the mixture and blend until creamy and add back to the pot. Stir in a 1/2 cup milk and garnish with fresh parsley.