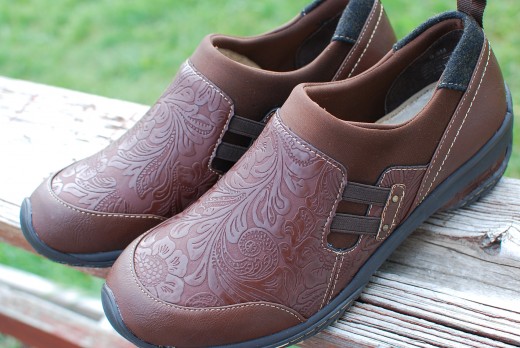 I am a big Jambu shoes fan. I have reviewed them numerous times over the years. In addition to loving them for the quality and style I also love that they have many vegan and planet friendly options. I buy up athletic shoes like they are going out of style and performance motivates my purchases not so much eco friendliness. So when it comes to fashionable shoes for non-athletic outings I like to buy ones that are kinder to the planet and to animals. This is why I look for flip flops made from recycled materials or boots made with vegan materials.
This past month I have been rocking a shoe from Jambu that reminds me of a boot. In fact I think they kinda look like boots when you see them peeking out from under a pair of jeans. This particular style is called Gourmet and the color is coffee.
It is a very pretty utilitarian vegan shoe with feminine flair and details. Easy on and off thanks to the built in elastic (good news for my wide feet). The upper of the shoe is beautifully embossed and it has a terra traction outsole. The outsole is also partially recycled!
Stretch fabric upper throughout the topline for easy-on fit
Memory Foam Footbed conforms to the unique contours of your feet for all day wearability
Eco-friendly All Terra Traction outsoles provide superior grip and durability
Faux-fur lining for added comfort and warmth
If you just like cute shoes then we have a winner on our hands. But if you also like to make sure no animal friends lost their lives to make your footwear than this is even better.
They are very comfy to wear and they keep your feet toasty warm on chilly fall days. I like how they "dress up" casual outfits and jeans too. Perfect for date night, parent teachers conferences, or for a walk in the park to watch the leaves change. They are utilitarian and yet very pretty.