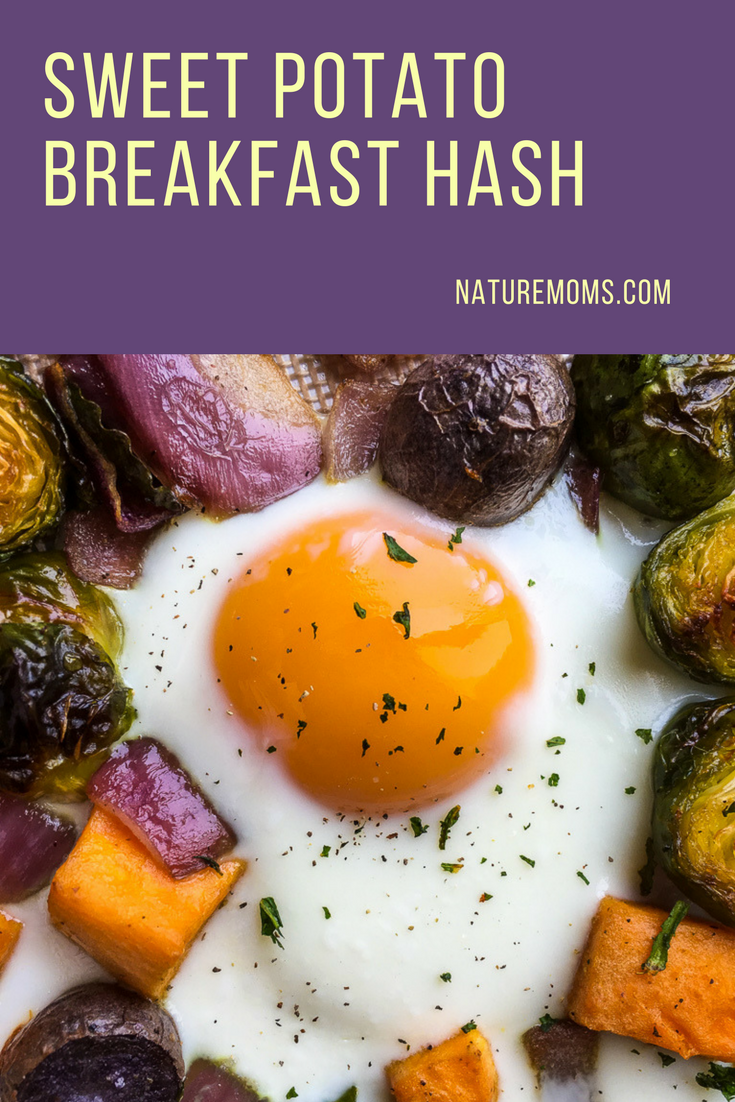 Need healthy breakfast inspiration? This recipe delivers such a gorgeous display of color with its rich oranges, deep purples, and gorgeous greens. But once you take a bite, you'll realize its beauty runs more than skin deep. Roasting the lightly seasoned vegetables brings out the full depth of their flavor to infuse every bite with a rich, savory sweetness that makes this one a true winner. Bonus points for being healthier too!
While they have roughly the same carb counts as white potatoes, sweet potatoes, have more fiber and are lower on the glycemic index. They also deliver 400% of your daily requirement of vitamin A and they are much higher in vitamin C than their white counterparts. Also brussels sprouts for breakfast? Nuff said.
If you need to, use two half baking sheets or a larger three-quarter size sheet pans to allow enough room to spread the vegetables out in a single layer without overcrowding. This will allow them to roast evenly without steaming.
Tip: For best results, crack each egg into a small bowl before transferring onto the sheet pan. Repeat this process, one egg at a time, until all eggs are on the pan.
Prep time: 10 minutes
Cook time: 22-28 minutes
Serves: 6
Ingredients:
2 large sweet potatoes, peeled and cut into chunks
1 lb. small purple potatoes, cut in half
8 oz. Brussels sprouts, cut in half
1 large red onion, roughly chopped
3-4 cloves fresh garlic, minced
1 tsp onion powder
3 Tbsp extra virgin olive oil
Sea salt and black pepper, to taste
6 large eggs
Optional garnish:
2 Tbsp crushed kale chips or dried herbs of choice and/or 2 Tbsp grated parmesan cheese
Directions:
Preheat oven to 425°F and line a large, rimmed baking sheet with parchment paper or a Silpat baking mat. If using parchment paper, lightly spray with non-stick cooking spray. Set aside.
In a large mixing bowl, toss sweet potatoes, purple potatoes, Brussels sprouts, red onion, garlic, onion powder, and olive oil until vegetables are well coated. Season with salt and black pepper, to taste.

Spread the sweet potato mixture onto the prepared sheet pan in a single layer without overcrowding and roast in pre-heated oven for 8-10 minutes. Stir vegetables and continue roasting another 8-10 minutes, or until sweet potatoes are fork tender.

Remove sheet pan from oven and create 6 round, evenly spaced openings among the vegetables. Carefully pour an egg into each opening, keeping the yolk intact. Season with additional salt and pepper, if desired, and return pan to the oven.


Bake for 6-8 minutes, or until the egg whites are set and the yolks reach the desired level of doneness. Remove sheet pan from oven and garnish with

crushed kale chips

or dried herbs of choice, if desired, and serve immediately with the roasted vegetables. Enjoy!