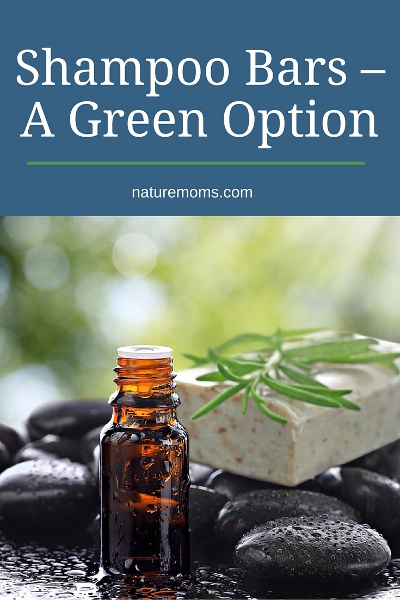 As I mentioned yesterday I am a big fan of shampoo bars. They are usually all I use in fact because they have a big green benefit…no waste. There is no plastic shampoo bottle to throw away and that could be quite a bit of plastic over time not entering the waste stream. I have used many different shampoo bars and my favorites are the ones that come wrapped in fabric or a simple strip of paper…then the fabric/paper can be reused in crafts or composted. Shampoo bars also last me a long time too because I find I don't need to wash my hair as much with most bars. MOST shampoo bars are also made with pretty natural ingredients…and not so much the nasty chemicals they put in liquid shampoo to make it last longer and stay mixed and not clumpy.
Some of my favorite shampoo bars include:
Solay Unscented Green Tea Shampoo and Body Bar – This is a luxurious bar made with fresh brewed green tea, avocado oil, and Himalayan salt. They are 100% vegan and 100% natural. I REALLY like these. They get my hair fresh and clean with natural ingredients and I swear I don't have to wash it again for 3-4 days.
Burt's Bees Shampoo Bar – My kids like this one. It cleanses with the natural lather of yucca and conditioning plant oils and oat protein. The peppermint is invigorating and really wakes you up…great for sleepy kids. You just have to be careful not to get it in the eyes because it will sting a little.
The J.R.LIGGETT Old Fashioned Shampoo Bar– I buy this one from a co-op and it is a nice product. It uses olive oil, coconut oil, Castor oil, spring water, sodium hydroxide (a binder), and earthy smelling essential oils. This one is pretty cheap too.
Knotty Boy All Purpose Shampoo Bars – These are very pretty shampoo bars and a little pricier than many others. They look awesome on the bathroom counter though and are great for travel. My hubby like them too. There are no synthetic chemicals or color or foaming agents, no animal ingredients or testing and they are 100% biodegradable so they are great for mountain-stream-washing. You can take them camping with no worries.
Blue House Soaps – This is a small indie business run by a husband and wife. I met the wife years ago and got hooked on her yummy soaps and shampoo bars. I have used…Sunshine, Coco Cay, Pure Peppermint, Oatmeal Honey Vanilla, Pink Grapefruit, and Tea Tree. The Tea Tree and the Peppermint are so strong you won't need to drink coffee in the morning, LOL. These burn my kids eyes though and they can get soggy if left to sit in water so you will need a soap dish for these.
Happy Showering!