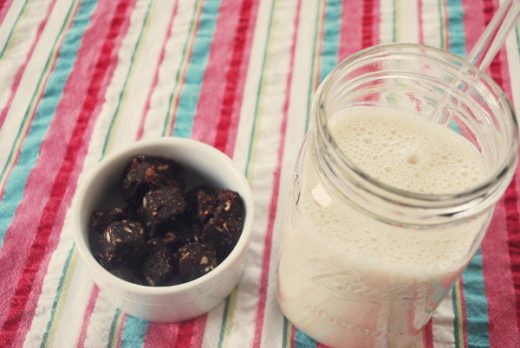 When the weather is warm and I am not in the mood for a green smoothie I make the next best thing… a milkshake. Nosh on some chocolate on the side and I am heaven sent. Yum!
This is a raw, vegan "mylkshake" made from unsweetened almond milk. I added a bit of Thai coconut sugar, a ripe banana, some vanilla, and ice cubes. It is frothy and delicious. I think the Ball jar and glass straw just add a little something too.
In the bowl is handful of Nativas Naturals Cacao Goji Power Snacks. I have long liked the brand for their raw, vegan, organic offerings. They sent me this bag and and a bag of Citrus Chia snacks. The chocolate ones are killer. The Chia Citrus ones tasted like soap. I did not like them at all. My husband, however, devoured the whole bag in about 30 minutes. Guess they don't taste like soap to everyone.
Now I am powered up for errands and laundry!
What are you snacking on?