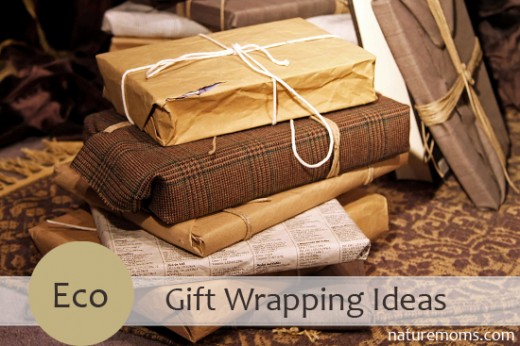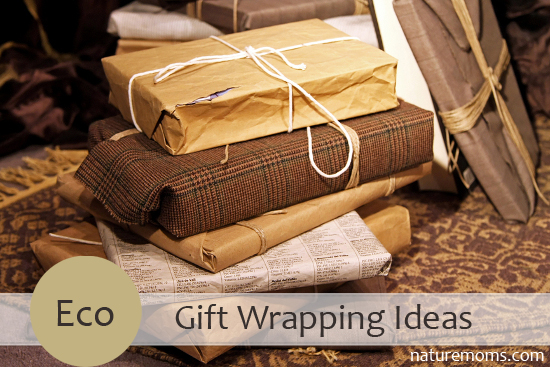 Gift wrapping paper with all it's bright colors and beautiful design is often hard to resist. Yet it is also expensive and wasteful to produce and use. Why use resources to produce beautiful paper that will end up ripped to shreds and thrown away only a few weeks later? Should we just go without wrapping the gifts that we give to others? Most people like to give gifts with some sort of embellishment so you may want to consider cheaper "recycled" gift wrap options.  Thoughtful touches and embellishments to your gift can be accomplished by reusing everyday items. The gift should be the one to do the talking right, not the paper it is wrapped in? Of course!
When wrapping a gift for a child or the big kid at heart, save the funny section from your Sunday newspaper. This will make your gift interesting, fun and may even cause the gift recipient to chuckle.
Consider reusing old hat boxes, wooden cigar boxes or tins as gift boxes.  If you do this, all you need to do is add some old curly ribbon and wrap it around the box or tin and voila! This will give your gift a unique classic look.
Other eco-friendly options include reusing wallpaper, maps and magazine pages. The use of brown paper grocery bags as gift wrap will give you the chance to bring out the artist in you (or your child). In order to this, grab a handful of colored pens, crayons and stencils and create your own designs.
Many people wrap gifts using reusable items. This includes squares of colorful fabric or old vibrant sheets, which you can often find at thrift stores. The use of blankets and scarves will make your gift unique, eco-friendly and beautiful. The recipient can also use the wrapping! If you are unsure of how to make fabric wrapped gifts attractive check out Wrapagami: The Art of Fabric Gift Wraps a book with complete instructions and tutorials for fabric gift wrap works of art.
Use pieces of nature to accent gifts, these items include: seashells, leaves, holly berries, painted pine cones, and other objects of nature. Highlights these accents by using bright red ribbon, light use of glue and add glitter to give your gift some sparkle. If you need tissue paper, use shredded material from a paper shredder.
Don't let the cost of gift wrapping, or its wastefulness, take the fun out of it for you. There are many eco-friendly ways to wrap gifts. The DIY (do it yourself) approach will allow you to be creative, reuse old items and have fun. Tis the season to be creative, save money, and do something good for the environment.
If you are looking for something easier, perhaps something ready made but no less green and reusable, I like some of these options:
Set of 3 Santa's Large Fabric Christmas Gift Bags – Can be reused year after year to wrap your children's gifts and they say 'From Santa". Too cute!
Reusable bags! If you bought Disney toys then look for a Disney tote bag to to put the gifts in…same for Angry Birds, Star Wars, or Lego. For adults there are obviously more fashionable prints. Then depending on age, the recipient has a convenient toy storage bag or a grocery shopping bag after they unwrap their gift.
Reuseit also has tons of very pretty fabric and reusable wrapping ideas, like the ones below. Check them out too!