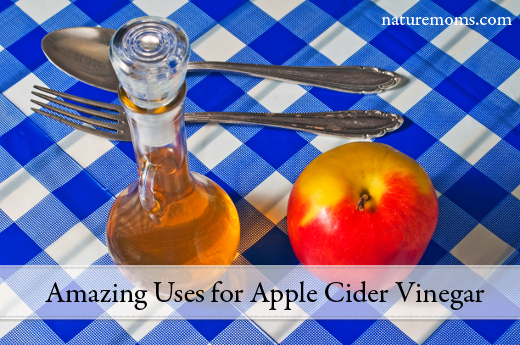 Apple cider vinegar, as the name suggests, is a type of vinegar made from apples. Called ACV for short, it is a cheap and effective alternative for cleaning your home, promoting your health, and enhancing beauty. You can do much, much more with it than make salad dressing!! Here are a few of the ways that you can enrich your life, your health, and solve some of those nagging daily problems with apple cider vinegar…
Eating – Add it to BBQ sauce, salad dressing, collard greens, bone broth, as a dip for oysters and french fries, or for pickling your fave fermented foods.
Drinking – ACV is widely known for its health benefits and ability to help the body regulate a healthy alkaline pH level, help with digestion, and detoxify so many drink it daily, diluted in water or juice. For more information on all the reasons you want to ingest more vinegar check out The Healing Powers of Vinegar: A Complete Guide to Nature's Most Remarkable Remedy.
Hair Care – ACV actually makes a wonderful conditioner whether you still use shampoo or you have gone the no poo route. Just give your hair a rinse with vinegar after washing or mix it with some essential oils like lavender or peppermint to give your hair a lovely scent while your at it. It is also excellent for managing lice because it dissolves the glue that binds the nits to hair follicles.
Cleaning – As with most vinegar it makes a great cleaning solution for numerous surfaces around the house, especially surfaces that tend to collect germs, like kitchens and bathrooms. It can be poured inside the rinse agent spot of your dishwater to help rinse dishes and get rid of water spots. To clean the microwave heat up a small bowl of vinegar for 5 minutes and let sit for an additional couple minutes. You will now be able to wipe away food and grime with ease. For laundry pour some in with the clothes during the rinse cycle and you have a homemade fabric softener.
Skin Care/Beauty – ACV is excellent for treating and relieving skin conditions because it regulates the pH of your skin and it soothes. It is great for eczema, hives, sunburn, acne scars, bug bites, and age spots. Use it directly or add to bathwater. Get rid of warts by soaking a cotton ball with the vinegar and then securing it with a band-aid overnight. Add to some clay and make a facial mask. Dab some under your arms daily and you have a cheap and effective deodorant.
Pet Care – Just as we can use it for skin and hair issues we can also use it on our pets. If your dog gets rashes due to allergies it can be applied via spray bottle to relieve itchiness and help with healing. This same spray bottle application will also work to repel fleas and ticks. For a shiny, healthy coat add a bit of apple cider vinegar to their drinking bowl.
Health – Many use it for relieving heartburn and for making herbal remedies like elderberry syrup. You can also gargle with it when you have a sore throat. As an added bonus it clears up your sinuses too, if you happen to have a cold. Add a tablespoon of honey to a tablespoon of ACV and you have another great natural treatment for cold/flu. It is also known to kill Candida and fungus.
Bug Control – This miracle substance also helps keeps the bug away, fruit flies that is. Just put out a ball jar with ACV at the bottom and insert a piece of paper shaped into a cone. The flies will go in because they are attracted to the vinegar but will not be able to fly out. You can also put some inside a small dish on your counter top along with a drop or two of dish soap. The fruit flies will get stuck in the soap. Problem solved!
Weed Killer – Bring out the spray bottle with full strength ACV and spray the leaves and stems of weeds you want gone.
How do YOU put apple cider vinegar to use in your home?