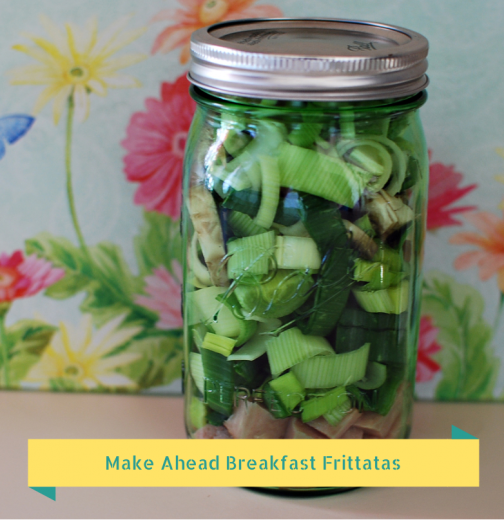 Most days I eat breakfast outside the house. If I don't want to eat from a cafe or vending machine then I have to plan ahead and bring food with me. The same goes for lunch except I find that lunch food is much easier to prepare in advance…breakfast not so much. This is why I usually just end up eating some fresh fruit and a nut-based snack bar of some kind, maybe some yogurt. No complaints there I just wanted some variety so I decided to see if I could whip up some kind of omelet or frittata that could be made the night before and be just as tasty heated up the next day. Score!
Not only can you make these yummy frittas the night before you eat them you can prepare the ingredients for cooking for several days in advance and keep in jars in the fridge. Then when it comes time to cook one you just dump out the ingredients in the pan, add the eggs and away you go. No chopping veggies each night because you already did it. It's fast and easy and gives me something a bit more substantial than fruit and yogurt.
Make Ahead Breakfast Frittatas
Ingredients:
2-3 pastured eggs
2 cups shopped leeks (white and dark green parts)
1 cup chopped mushrooms
Sliced ham or bacon
2 T Parmesan cheese
How to Make: Preheat oven to 350. Clean and chop veggies. Add veggies and meat to a hot cast iron griddle or skillet and saute until the mushrooms and leeks are soft, about five minutes. Whip together the eggs and cheese and pour on top of the veggies, tilting the pan until all areas are covered with egg. Put immediately into the pre-heated oven and cook for another five minutes.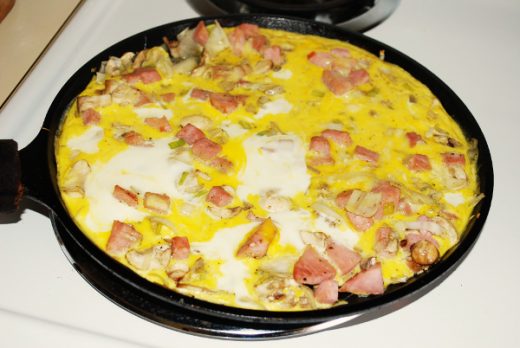 Eat immediately or place in a to-go container for breakfast (or lunch) the next day.
I prepare the ingredients for 3 days worth of frittatas all at once. The ingredients for the other two are then kept in separate Ball jars in the fridge. Then I just grab a jar, dump the contents onto a hot skillet and cook away. This saves oodles of time because the leeks are not that easy to clean (grown in sandy soil).
For more make ahead breakfast ideas check out this book written by another blogger, The Busy Mom's Make-Ahead Breakfast Cookbook. I have it myself and it is full of great recipes that are either make ahead, prepare ahead, or quick and easy to make first thing in the morning…all healthy and made with real ingredients of course. No junk. Recipes include homemade granola, breakfast bars, overnight slow cooker meals, muffins, breakfast sandwiches, and much more. I highly recommend you check it out if you struggle with healthy breakfasts in the morning.