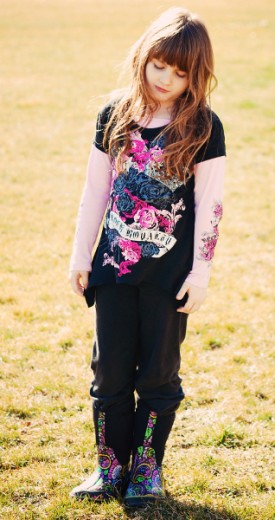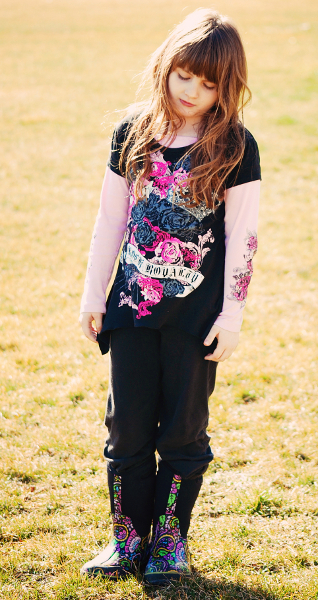 This lovely lady to the right is my 8 year old daughter. I have two boys and yet she is the one who would gladly spend every available moment outside playing with friends and getting dirty. She is such an outdoor girl and she needs boots that will not only keep her feet warm during our cold Ohio winters, she also wants some that are fashionable. Whether you are splashing in puddles or building a fort you need to look good right? Well, I hear that you do anyway.
The good folks at Bogs offered to send me some boots from their collection a few weeks back and I knew immediately that I would pick some for her. For whatever reason we were lax this year in picking out some new boots for her growing feet and these looked perfect. We chose the vegan Classic High Tuscany. We love the bright colors and fit of course but I am most impressed with how warm they keep her feet. When you have to send your kids outside to wait for the bus in 10 degree weather, that is so very important. These boots are tested to -30!
I deliberately got them about two sizes too big  so that she can wear them for at least another winter or two. Even so they fit comfortably and she often prefers to wear them instead of her sneakers on warmer days. I think she will also be wearing them on rainy spring, summer, and fall days as well! In the winter they are perfect for snow play and casual wear. This photo was taken today in our backyard where she was happily filling pots and toiler paper rolls with soil from our garden beds and then planting starter seeds for indoors. No matter how dirty they get, they seem to wipe clean and look good as new.  At $68 they priced just right, especially for something that doesn't look like crap after only 2 weeks. I did choose the black quite deliberately though, just in case…
Bogs boots get an A+ here!